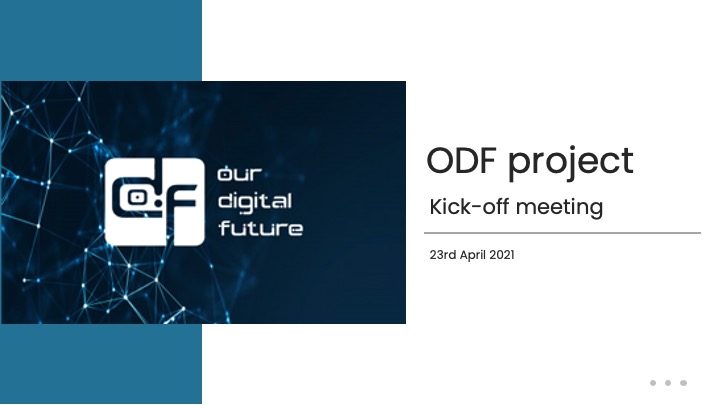 Project Highlights
The Our Digital Future [ODF] project is a European action implemented under Erasmus+ framework, KA2 Strategic partnerships call for Digital Education. Funded by the Polish National Agency (agreement no. 2020-1-PL01-KA226-VET-095406), the project is coordinated by the Polish organization "Euro-Lider" and enjoys the valuable expertise of other four European organizations from:
The ODF project will last for two years, having started on April 1st 2021. Consequently, on the 23rd of April 2021, the ODF partners met online for the official kick-off meeting of the project. It was a wonderful opportunity for the consortium members to get better acquainted and to establish the ODF action plan. Furthermore, partners gained insight into the specific roles assigned within the consortium. They got a clearer understanding of how their collaboration and joined efforts will converge towards achieving the project's compelling results.
Project Objectives
Moreover, the project coordinator touched upon the main objectives of the project, highlighting their particular importance. The ODF project aims to contribute to the EU Digital Skills and Jobs Coalition pledge as the envisaged intellectual outputs foster the acquisition of digital skills amongst Europeans. Therefore, in order to implement this overall objective, the project sets to achieve three Intellectual Outputs:
IO1 – 32 Visual Infographics
IO2 – 16 Video based interviews with 16 lesson plans
IO3 – 1 Digital platform and 1 app
All the above mentioned intellectual outputs cover, in one way or another, eight emerging sectors the project sets to explore and promote among Europeans in general and VET career advisors, in particular. These sectors are alternative energy consultancy, 3D printing, food technology, robotics, cyber security, virtual reality design, Blockchain technologies and artificial intelligence development.
Below we have provided some representative images from the kick-off meeting, including two ODF project presentation slides.